Christian Dickmann (VSAN Development Architect) talking about VSAN Management futures in this session, first of all a big fat disclaimer, all of these features may or may not ever make it in to a release and no promises of timelines were made. This session all revolved around VSAN's mission: Providing Radically Simple HCI with Choice. Keep that in mind when reading the rest of article. Also, this session literally just finished a second ago, I wanted to publish it asap so if there are any typos, my apologies.
First Christian went over the current VSAN Management Experience, discussing the creation of a VSAN Cluster, health monitoring and performance monitoring. VSAN is already dead simple from a storage point of view, but there is room for improvement from an operational point of view, and mostly in the vSphere space. Install / Update / Upgrades of drivers, firmware, ESXi, vCenter etc.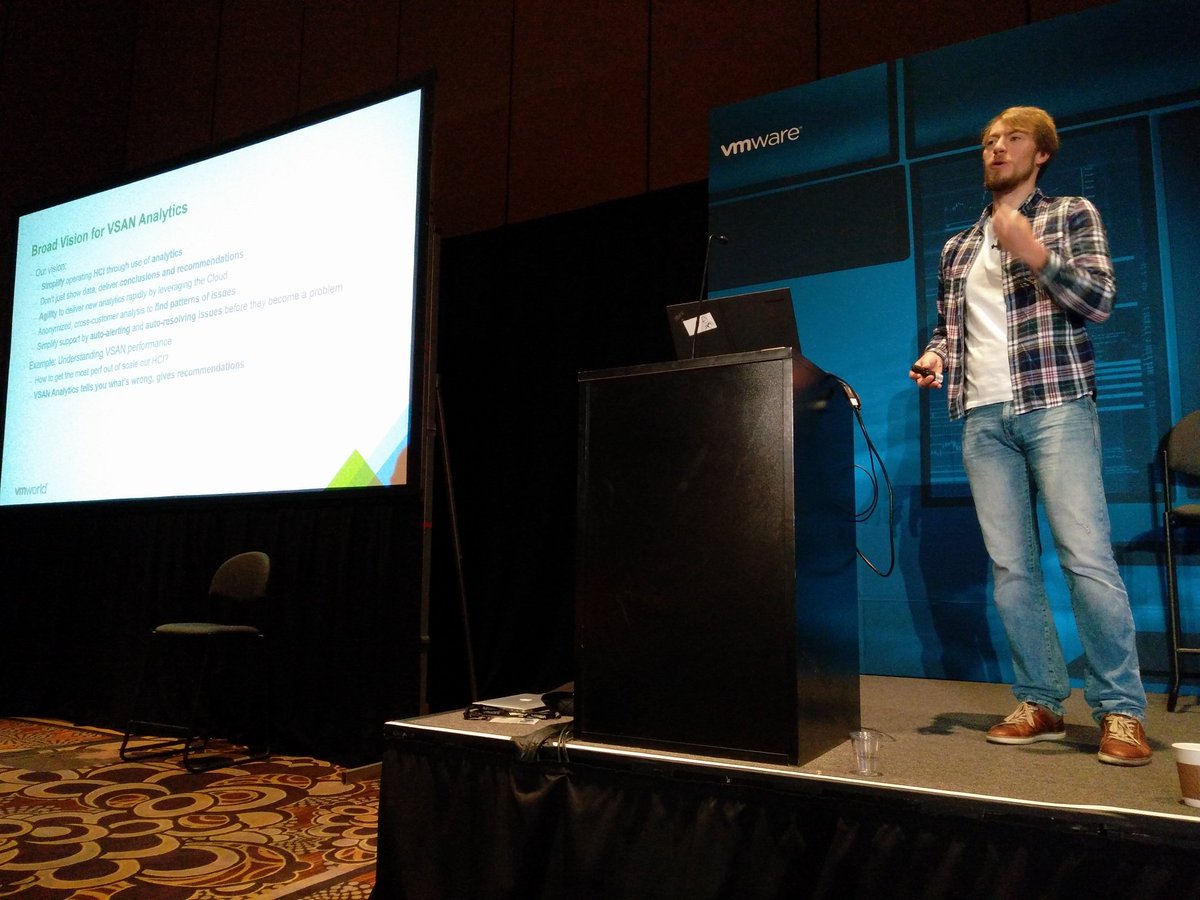 1st demo: HCI Installer
In this demo a deployment of the vCenter Server Appliance is shown. We connect to an ESXi server fist. Then you provide all the normal vCenter Server details like password. Where do you want to deploy the appliance? How about on VSAN? Well you can actually create the VSAN Datastore during the deployment of the VCSA. You specify VSAN details and go ahead. During the install/configuration process VSAN will simply be configured using a single host cluster. When vCenter is installed and configured you simply add the rest of the hosts to the cluster. Very cool if you ask me!
2nd demo: Simple VMkernel interface creation
In this demo the creation of VMkernel interfaces is shown. Creation of the interfaces is dead simple as you can simply specify the IP ranges and it does this for every host using the specified details. Literally 4 hosts and interfaces were creates in seconds.
3rd demo: Firmware Upgrade
In this demo in the VSAN Healthcheck it is shown that the firmware of the disk controller is out of date. When you say update, vendor specific tools are downloaded and installed first. When this is completed you can remediate your cluster and install drivers and firmware for all nodes in your cluster, all done through the UI (webclient) and literally in minutes in a rolling fashion. I wish I had this when I had to upgrade my lab in the past.
4th demo: VUM Integration
80% of vSphere customers use VUM so integrating VSAN upgrades and updates with VUM makes a lot of sense. During the upgrade process VUM will validate which version of vSphere/VSAN is supported for your environment. If for whatever reason the latest version is not supported for your configuration it will make a recommendation to use a different version. When you remediate VSAN provides the image needed and there is no need even to create baselines etc. All of this manual work is done by VSAN for you. Upgrades literally become 1 or 2 clicks, and all risks are mitigated by validation of hardware/software against the compatibility matrix.
5th demo: Automation
In this demo Christian showed how to automate the deployment of 10 ROBO clusters end to end using PowerCLI. One by one all the different locations are being created. Every single aspect is fully automated, including even the deployment of the witness appliance. The second demo was the upgrade of the VSAN on-disk format using python. In a fully automated fashion all clusters are upgraded in a rolling fashing. No magic here, all using public APIs.
6th demo: VSAN Analytics
Apparently with the 6.2 Christian found out that Admin's don't read all KB articles VMware releases, based on the issue experienced with a disk controller he decided to solve this problem. Can we pro-actively inform you about this problem? Yes we can, using a "cloud connected" VSAN Healthcheck we know what you are using and we can inform you about KBs and potential issues and recommendations that may apply to you. And that is what was shown in this demo, a known issue is bubbled up through the healthcheck and the KB details are provided. Mitigating is simply a matter of applying the recommendation. This is still a manual step, and probably will stay as Christian emphasized as you as the administrator need to have control and should make the decision whether you want to apply the steps/patches or not.
Concluding, in literally 40 minutes Christian showed how the VSAN team is planning on simplifying your life. Not just from a storage perspective, but for your complete vSphere infrastructure. I am hoping I can share the demos at some point in the future as they are worth watching. Thanks Christian for sharing, great job!