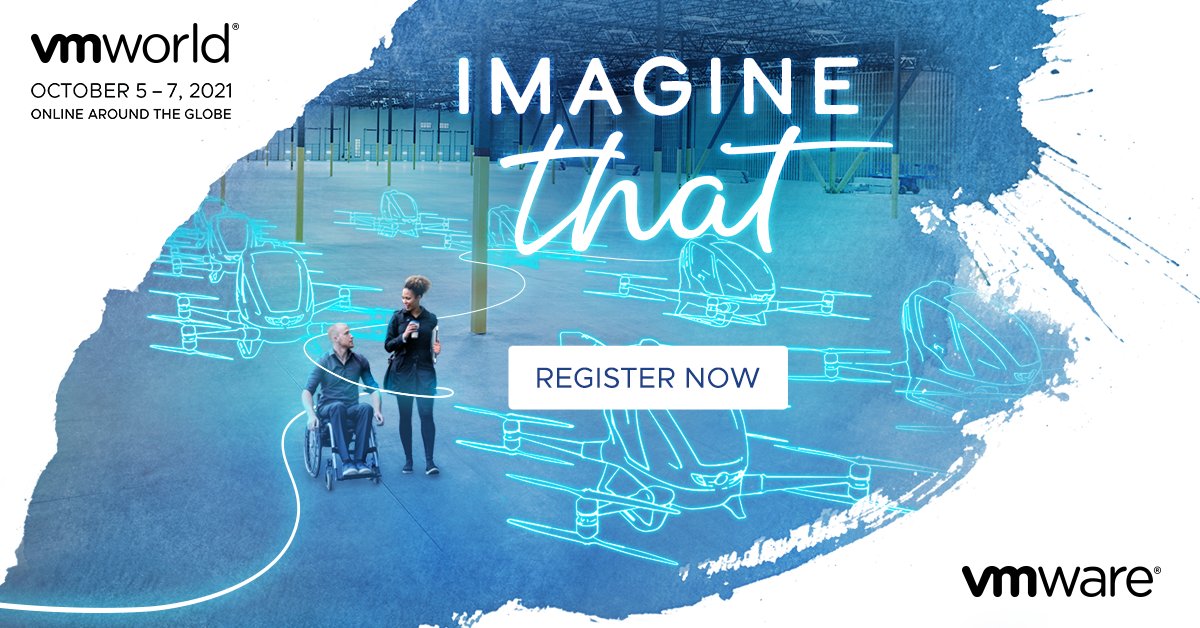 It is that time of the year again, the VMworld content catalog has been posted online! Like every year I am going to provide a list of sessions that I highly recommend watching. There are many great sessions, and I can't list them all, so I am going to limit it to 15 sessions again. If you feel there's a great session missing, feel free to leave a comment of course! Oh and before I forget, I suspect that at the first day of the event multiple sessions will be added (new products/features/versions etc), so keep checking the content catalog during the event as well!
I have a session with Cormac titled: "VMware vSAN – Dynamic Volumes for Traditional and Modern Applications [MCL1084]". We will be discussing how to use vSAN for VMs and Containers. Find it here.
In no particular order:
Project Monterey: Present, Future and Beyond [MCL1401] by Sudhanshu Jain and Simer Singh
SmartNICs and DPUs have been talked about a lot at last years VMworld, and slowly we are starting to see more and more uptake of it amongst customers. If you are interested in what these accelerators can do for you today and tomorrow, make sure to check this session!
VMware's Vision for Storage and Data in a Multi-Cloud World [MCL2505] by Marc Fleischmann and Vijay Ramachandran
This has traditionally always been one of my favorite sessions about the future of Storage and Data. Why? Well, in this session Marc and Vijay will give insights into what you can expect from VMware in the near (and long term) future. Who doesn't enjoy a roadmap!
Make Sustainable Choices for Product Innovation, Operations: What Can I Do? [IC2794] by Joe Baguley and Adrian Cockcroft
Two powerhouses have teamed up, Adrian Cockcroft and Joe Baguley. Not just for this session, but they have another session around sustainability (IC2792). Not only an intriguing subject, but also something which is on top of many C-level execs today.
Core Storage Best Practices Deep Dive [MCL2071] by Jason Massae and Cody Hosterman
This is a VMworld top 10 session literally every year for a reason. It has great content, it is deep technical, and it is delivered by great speakers. Must see!
Security Deep Dive and Emerging Capabilities in VMware Cloud on AWS [SEC1362] by Ron Fuller
I haven't seen any sessions by Ron just yet, but the title and the description just interest me. I think that security is still overlooked, and I think that for everyone it would be useful to learn about how security offerings are implemented in public cloud environments!
VEBA Revolutions – Unleashing the Power of Event-Driven Automation [CODE2773] by Michael Gasch and William Lam
It took me a while to see where VEBA would be useful, but after it clicked I have recommended various folks to check out this event-driven way of automation to solve certain problems they were experiencing. Plus, Michael Gasch and William Lam means it will be deep and excellent!
VDI Nerdfest 2021: Demos That Make Admins Drool [EUS1289] by Johan van Amersfoort and Jon Towles
This session last year was packed with great demos, this alone for me is a reason to watch it again this year. I always appreciate a great demo, something that has you thinking "how did they do that?"…
Extreme Performance Series: Performance best practices [MCL1635] by Mark A and Valentin Bondzio
This one comes as both a session as well as a boot camp (MCL2033). This session will provide you the tools you need to do performance troubleshooting, or simply will provide you with a better understanding of all the different parts of the stack and where potential choking points could be.
60 Minutes of Non-Uniform Memory Access (NUMA) 3rd Edition [MCL1853] by Frank Denneman
Never attended this session and you call yourself a geek? SHAME!
Best Practices for Running AI Workloads in VMs on VMware vSphere [VI1459] by Justin Murray and Andrew Liu
Justin delivered one of the best sessions in 2020 if you ask me, also on the topic of AI and GPUs, and I expect a lot of this joint session with NVIDIA's Andrew Liu.
The Future of VM Provisioning – Enabling VM Lifecycle Through Kubernetes [APP1564] by Myles Gray and Nikitha Suryadevara
Kubernetes is all about containerized apps! Could it be used for provisioning VMs? Myles and Nikitha will tell you all about it in this session. Interesting concept!
The Evolution of Intelligent Edge and Electrical Grid Modernization [VI1455] by Daniel Beveridge, Alan Renouf, and Prithpal Khajuria
Daniel and Alan are part of the Office of CTO, and more specifically the innovation labs. That is why this session stood out. Combine it with the buzzwords "intelligent edge" and a co-speaker from Intel (Prithpal), and I am sure this session will spark conversations!
Upskill Your Workforce with Augmented and Virtual Reality and VMware [VI1596] by Alan Renouf and Matt Coppinger
I worked on a project at the start of 2020 with Alan and Matt around virtualizing VR and AR workloads, very interesting stuff. Also interesting to hear about these different AR and VR use cases that enterprises have these days. Reminds me, I still need to pick up an Oculus Quest 2.
Automating Ransomware Remediation with the VMware Carbon Black Cloud SDK [CODE2782] by Alex van Brunt and Emanuela Mitreva
Open up any website that discusses IT and you will most likely see one or two articles on the topic of ransomware. There's a long list of sessions discussing what Carbon Black is at VMworld, but this one stood out to me as it discussed automating the remediation, which should be a crucial part of your plan to defend against attacks!
Migration in Action with Google Cloud VMware Engine [MCL1764] by Emad Younis and Simon Long
Emad has a few sessions on the topic of multi-cloud workload migration and management, I had to pick one, so I picked this one where the migration to Google Cloud is discussed. Sounds like an interesting session, and both Emad and Simon are great presenters, so it should be good!
That was it for now, if more sessions are added to the catalog I may just do an update, probably after VMworld after I watched some of them. Anyway, now it is time to sign up for VMworld 2021! Let's hope we can all attend "in-person" again next year.