VMworld for me is always a very hectic time. Usually multiple sessions, customer meetings, briefings and just many conversations with readers and people you bump in to while going from one place to the other. I tried to do some live blogging, but with everything going on I did not bother. Especially Day 1 and 2 are special for a VMware employee as everything we have been working on is then usually revealed. Of course not all the details, as the keynotes would take days instead of hours. I did take a bunch of notes so I figured I would share it anyway, so lets dive in to it.
Personally I was very exited about the Day 1 keynote, I really liked the personal touch that Pat gave to it and it really got me excited about all the great stuff that was still to come. I am not going to layout the keynote minute by minute, as you can simply watch the recording, but there were a bunch of things that stood out to me that I want to call out.
The DJ that opened the keynote was great, very energetic and it really got the crowd excited, even before Pat was on stage! When Pat came he welcomed everyone and introduced 21 folks who have attended all VMworld in the US, afterwards I found out that there is actually 1 person who attended ALL VMworld's, not just US but also EMEA (Marc H). All 21 received lifetime free passes to VMworld, congrats and I hope each and everyone of you will be able to attend many more in the future!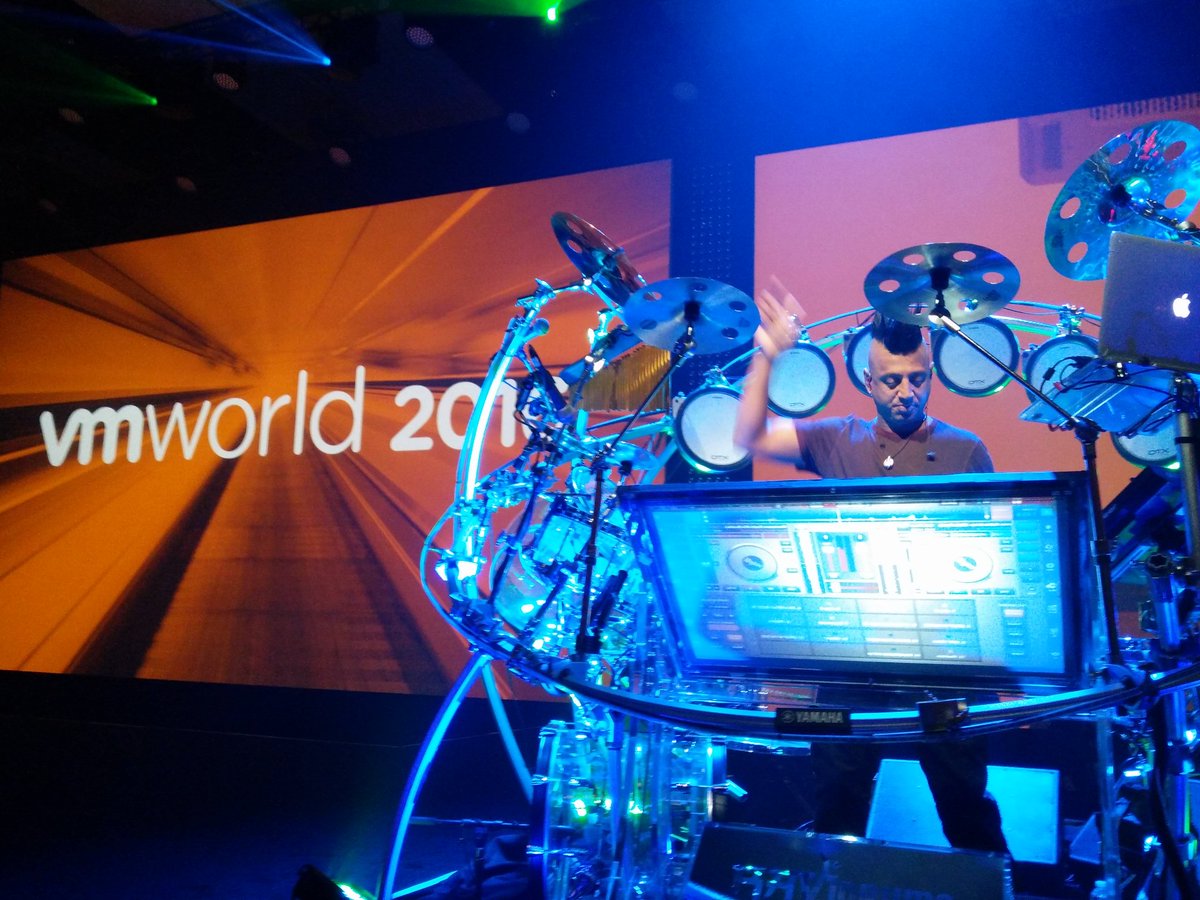 During the keynote many customers were brought up on stage, instead of having the standard customer panel it was woven throughout the keynote which worked well. What I felt was most exciting about the Day 1 keynote was definitely the demo. Cross Cloud Services literally blew my mind. First of all, that UI looked very sharp. It looked fresh, simple and efficient. Secondly, the whole concept of managing various different mega-clouds through a single interface is what many of my customers have been asking for years, and now looks to start being reality. Not just managing but actually being able to move workloads between public clouds, including all associated network and security services and settings. Judging by the twitter stream not everyone caught that, but when Guido Appenzeller mentioned that a workload was cloned from AWS region "x" to region "Y" and to Azure, that also resulted in all network and security services and setting to be extended to those location and even other clouds. All of this in a seamless manner, you as the admin just "clone" the workload and VMware Cross Cloud Services takes care of the rest. This was a demo of a tech preview, in this case the emphasize was on networking and security but there is much more to is as the slide below seems to indicate. (photo of slide by Dana Youngtech)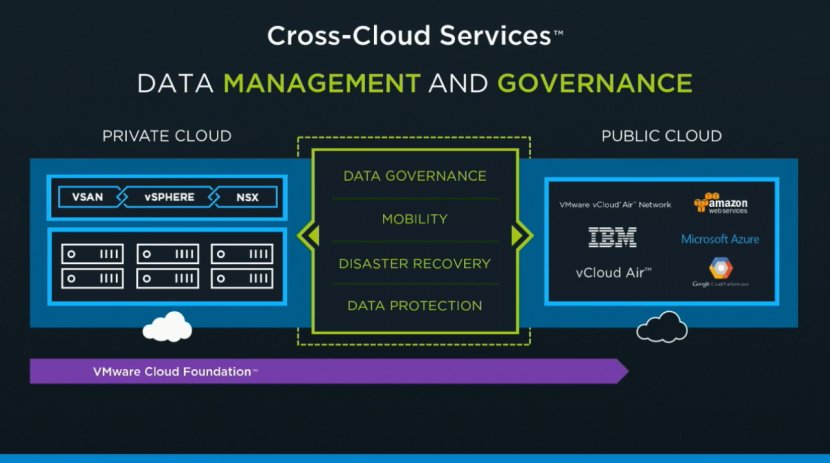 Day 2 was just as exciting if you ask me, especially when Sanjay Poonen kicks off. What a high energy speaker, definitely one of the best I have seen present at VMworld. The demos shown by Sanjay mainly revolved around Workspace ONE. What struck me most was the deep level of integration, all the way down from the infrastructure up to the application layer. Sanjay for instance showed how changes to a firewall rule for a particular group would lead to certain data in an application dashboard served up by Workspace One would be blocked. Very impressive. I also liked the custom build apps that he showed where through Workspace One an app was served that gathered all of the different approvals and allowed you to approve Concur, Workday and other workflows from a single interface. Great level of integration and a great focus on making the life of a user simpler if you ask me. Oh and before I forget, free Workstation / Fusion license for those who downloaded the VMworld app. (Guessing for attendees only, but haven't tested.)
Next up on stage was Ray O'Farrell and Kit Colbert. Kit recently joined the Cloud Platform BU as the CTO and Ray is VMware's CTO. Not surprisingly I guess, but Kit mainly spoke about vSphere Integrated Containers and Photon. The demo that followed was interesting. It showed a new open source project called Harbor, which is a container registry, and it showed VIC. What impressed me is how it all integrated end to end, from the container down to monitoring, management and security through NSX for instance. Kit also spoke briefly about Photon Controller and the benefits this brings, very interesting concept which now also seems to support VSAN.
Up next was Rajiv Ramaswami who is the GM for the Networking and Security Business Unit. Of course the majority of the conversation was about NSX. I was looking forward to this section as I personally haven't looked much at the recently acquired Arkin, which provides deep insight in to traffic flows and patterns etc. Actually, part of this was also shown in the Day 1 demo, some may recognize the diagram below, which is similar to what was shown in the Cross-Cloud Services UI.
Last up: Yanbing Li. Yanbing is our fearless leader in the Storage and Availability BU and it is needless to say that the main topic in this section was VSAN. Yanbing mentioned that VSAN now has over 5000 customers, and that VMware is adding 100 new customers every week. A couple of upcoming features were introduced namely: Encryption at rest (software based) and Analytics. Both of these features were demoed as well, but that wasn't it. In the demo they showed how VSAN Analytics pro-actively informs the user that a workload should be migrated to an all-flash cluster to serve the needs of the app. Through vRealize Automation the VM was then migrated to a public cloud and also ended up on an encrypted VSAN datastore, all of if through policy. Very impressive, and I can't wait for those new features to be available. Hopefully I can share more details soon. And that was the end of the day 2 keynote. Some very cool new things shown, and apparently we can expect much more to be announced at VMworld EMEA.
For those interested, you can watch the sessions here…