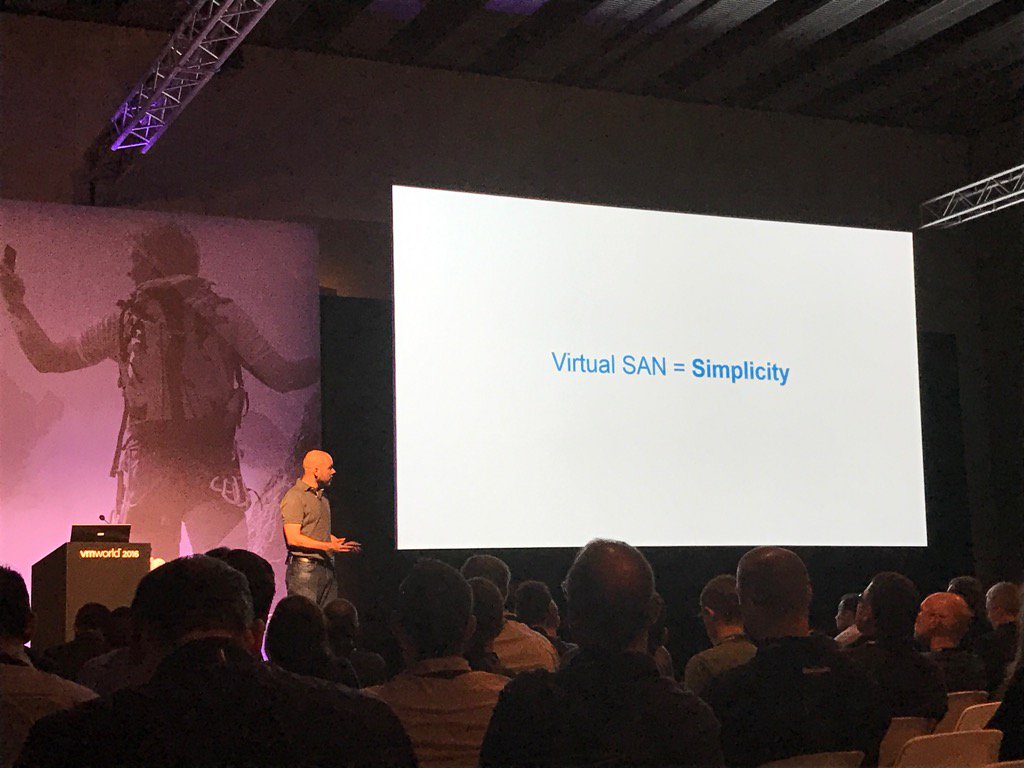 Every year I go over "all" accepted VMworld sessions which are publicly listed and provide my top 15 / 20 / 25 / 30 list of VMworld sessions. (Some sessions won't be revealed until the day before as they could be on the topic of certain announcements) I have had comments in the past around my selection and I hope it is clear that this is my opinion based on the subject and speaker. In some cases they may be familiar names like Cormac Hogan, in some cases it may be a less known person which I've seen presenting in the past. I am looking for mostly deep technical sessions, or sessions which I know will simply be enjoyable to attend. Considering there are only a couple of weeks between VMworld US and EMEA I will only do a single post this time. Some sessions may not be accepted for EMEA unfortunately.
Here we go, my top 15 sessions!
VMware CTO Innovation Panel: What's Next? [FUT3025PU] with 

Ray O'Farrell

, 

Christos Karamanolis

, 

Chris Wolf

, 

Shawn Bass and 

Mike Wookey
I always enjoy panel sessions, and when there's one with our CTOs it is definitely worth attending. I hope there will be some nice hints in this session of what to expect from VMware in the upcoming years and some good discussion around which directions the industry is heading towards.

Storage at Memory Speed: Finally, Nonvolatile Memory Is Here [FUT3040BU] by 

Rajesh Venkatasubramanian and 

Richard Brunner
NVM is going to change the world of memory and storage, if you want to be prepared for the future then make sure to register. I've seen Rajesh present a couple of times and there's always something to learn, haven't had the pleasure of seeing Richard live yet, but that is about to change!

vSphere 6.5 Host Resources Deep Dive: Part 2 [SER1872BU] by Frank Denneman and Niels Hagoort
The book was thorough, deep… extremely deep, and both are excellents presenters. So this session has to be on the list. If you want to know more about NUMA, overlays etc then this is a must.

vSAN 6.6: A Day in the Life of an I/O [STO1926BU] by 

John Nicholson and 

Pete Koehler
Considering all the changes in vSAN and considering the speakers this is a must attend for everyone interested in what the IO path for vSAN looks like. Are you using Dedupe/Compresssion, RAID-1 or RAID-5 or maybe even Encryption? John and Pete will explain what the IO path will look like!

The Power Hour: vSphere PowerCLI 10th Birthday Edition [SER1875BU] by 

Luc Dekens and 

Alan Renouf
The dynamic duo of PowerCLI. I will let it up to you guys to decide who is Batman and who is Robin though. I think I have seen a dozen sessions by these guys and they never disappoint. Usually a large number of demoes and a level of detail that you don't see often.

Virtual Volumes Technical Deep Dive [STO2446BU] by 

Patrick Dirks and 

Pete Flecha
I have attended various sessions by Pete and Patrick and they were excellent every single time. Patrick is a senior manager in R&D managing the VVol development team, so if you have any in-depth questions… bring them!

VMware Cloud on AWS: Storage Deep Dive [STO1890BU] by 

Ben Meadowcroft and 

Matthew Amdur
Very interesting topic, Ben is the PM and Matt the lead engineer, so I expect it to be deep!

vSAN Management Today and in the Future [STO1378BU] by 

JunChi Zhang and 

Christian Dickmann
Last year Christian had various tech previews that showed the potential future of vSAN. I think every single demo became reality in the 2 releases that followed. So if you want to know where we stand today and where we will be in the future with vSAN then make sure to attend this one!

VMware Cloud on AWS: A Technical Deep Dive [LHC2384BU] by 

Frank Denneman and 

Ray Budavari
Interesting topic, haven't heard too much (in-depth) on VMware Cloud on AWS so this would be a great session to dive deep and get more familiar with the offering and the architecture behind it!

A 

Deep Dive into vSphere 6.5 Core Storage Features and Functionality [SER1143BU] by 

Cody Hosterman and 

Cormac Hogan
Probably my two fav storage bloggers. Cody and Cormac jointly wrote a white paper on this topic and have been the go to people for anything on core storage for the past years, and great speakers. You can't go wrong!

Extreme Performance Series – ALL
Not listing a specific session in this case, the performance team has many sessions, just search for "extreme performance series" and they will pop-up. They will all be deep, and most likely very educational.

Sustainability as a Competitive Advantage [FUT2051BU] by 

Rob Glanzman and 

Nicola Acutt
This is the odd one in the mix. Not a deepdive, and I don't even think it is a technical session. I know Rob and Nicola well though, and I know what Nicola has been working on and this session caught my attention as it is something different for a change. How can you get a competitive edge through sustainability?
And for those who care, here are my own two sessions: